Richard Russell: A mixed and troubling legacy
     The proposal even had bipartisan backing from Sen. Chuck Schumer, D-N.Y., and Sen. Jeff Flake, R.-Ariz.
     The Russell Building was named for the late Sen. Richard B. Russell Jr. (1897-1971), who served as a U.S. senator for nearly 40 years. Russell, a Democrat from Georgia, was an accomplished policy wonk and expert on the rules of the Senate, according to various accounts. He was also an avowed segregationist. 
     As a Vietnam War veteran, two-time presidential contender and noted advocate for veterans, McCain, who served nearly 32 years in the Senate, would be a better choice. But some senators, notably,
David Perdue of Georgia
, feel Russell's name should remain on the building.
     So, what was Russell's record? Here is the rundown: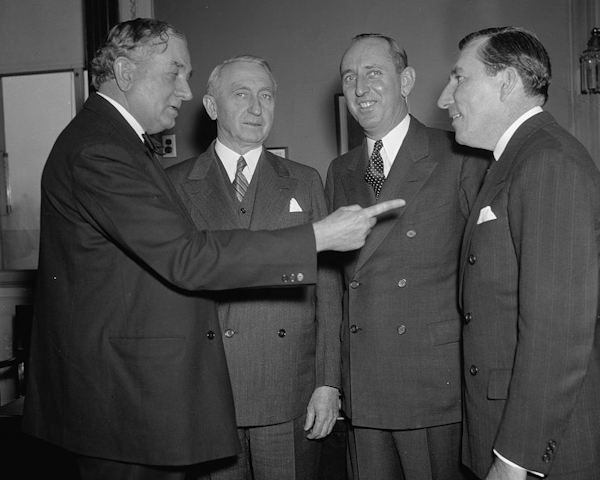 Senators pictured in this 1938 photo filibustered against an anti-lynching bill. From left: Tom Connally of Texas, Walter George and Richard Russell of Georgia, Claude Pepper of Florida.
Image: Harris & Ewing via the Library of Congress.
     Birth: He was born Richard Brevard Russell Jr., in Winder, Georgia, Nov. 2, 1897, to educated parents. His father, Richard B. Russell Sr., was a lawyer, state legislator, businessman and judge, according to the New Georgia Encyclopedia, a website of the Georgia Humanities and the University of Georgia Press. His mother, Ina Dillard Russell, was a teacher.

     Entry into politics:
Russell graduated from University of Georgia in 1918 and practiced law for a year after school. Almost immediately, he ran for office. Two years after graduation, he was elected to the Georgia House of Representatives. His campaign literature advertises him as "honest, progressive, experienced." His platform included construction of highways, support for public education and fiscal responsibility.
    Russell was elected governor in 1931, but he had his eye on national politics. U.S. Sen. William J. Harris died in 1932 and Russell, as governor, appointed an interim senator, then announced his own candidacy for the post. He won.
  Re-elected
in 1936, 1942, 1948, 1954, 1960 and 1966, he served until his death in 1971, according to his biography
on the
U.S. Congress website.
He held down multiple committee assignments. His name was put on one of Senate's office buildings in 1972. 
     Devotion to the Senate: "A lifelong bachelor, Russell worked long hours at the Capitol, devoting his life to attending committee meetings, serving the needs of his constituents, and, it was said, reading the Congressional Record every day the Congress was in session," writes Robert D. Loevy in the book, To End All Segregation (University Press Of America; 1990).
    The New Deal: Russell was a strong backer of Franklin D. Roosevelt's signature achievement, the New Deal -- a series domestic programs enacted between 1933 and 1938 in response to the Great Depression. 
     According to the New Georgia Encyclopedia, Russell advocated for farmers and believed that authoring and securing passage for the National School Lunch Program in 1946 was his most important legislative accomplishment.

     Segregation: Russell's position on segregation and Civil Rights forms a compelling argument for the removal of his name from the Senate office building.
    In 1936, Russell was challenged for re-election by Eugene Talmadge, who had succeeded Russell as governor of Georgia.
    "When Talmadge charged that Russell was supporting U.S. Government programs that forced 'social equality' among the races, Russell had no choice but to firmly state his belief in white supremacy," Loevy writes. " 'As one who was born and reared in the atmosphere of the Old South,' Russell replied, 'with six generations of my forebears now resting beneath Southern soil, I am willing to go as far and make as great a sacrifice to preserve and insure white supremacy in the social, economic, and political life of our state as any man who lives within her borders.'"
     Early on, Russell objected to anti-lynching bills in Congress. "Through filibuster and Russell's command of the Senate's parliamentary rules and precedents, the Southern Bloc stymied all civil rights legislation," the New Georgia Encyclopedia recounts. But it adds that once the Civil Rights bill passed in 1964, Russell urged compliance with the law.
    Related:
    Film focuses on LBJ's Civil Rights legacy
 
     Like us on Facebook and tell us what you think.