Turn: The treachery of Benedict Arnold
    It happens as Washington, portrayed by Ian Kahn, receives word that Gen. Benedict Arnold is a traitor. As Washington's eyes scan a letter confirming the treachery, an out-to-lunch look crosses his angular face.
    Based loosely on the exploits of spies during the American Revolution,
Turn
  is known to take broad liberties with history. But Kahn's reaction was probably dead on.  Our ninth post about the drama focuses on the stunning revelation of Arnold's betrayal in September 1780.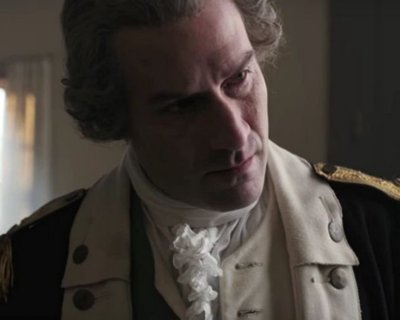 Washington (Ian Kahn) receives the news. Image: AMC.
The bargain: Arnold, put in command of West Point in June 1780, had haggled for money in exchange for the fortress, positioned on a strategic plateau overlooking the Hudson River. If the British were able to take West Point, they could control the Hudson. 
    In the book upon which the show is based, Washington's Spies: The Story of America's First Spy Ring (Bantam; 2006), Alexander Rose describes Arnold as "a mercenary entrepreneur, continually demanding more money for his treachery while his masters tried to gauge how fertile their man's supply of intelligence was likely to be." 
    On the British side, Gen. Henry Clinton, "agreed to pay him (Arnold) 20,000 pounds only if he delivered in addition to the fortress 3,000 men and innumerable stores," wrote James Thomas Flexner in the book The Traitor and the Spy, Benedict Arnold and John André (Syracuse University Press; 1991).
An attempt to ensnare Maj. Benjamin Tallmadge: Arnold wrote Tallmadge, the American chief of intelligence, noting that a man named James Anderson was coming from New York. (James Anderson and John Anderson were aliases for Maj. John André, head of British intelligence.) Arnold asked Tallmadge to "give him an escort of two horse[s] to bring him on his way to this place, and send an express to me that I may meet him." Arnold added, "If your business will permit I wish you to come with him." In Washington's Spies, Rose concludes "that the turncoat believed he might have a bonus for the British to scoop up: the American chief of intelligence." But Tallmadge did not open the letter until Sept. 21, after André's arrival.
British reservations: Clinton was not pleased with Arnold's suggestion that André go disguised into American lines -- and risk being caught as a spy. Clinton ordered André to take precautions. In particular, "he ordered his adjutant not to place himself in the position of a spy by changing his uniform for any other costume or by entering an enemy post. He assumed that André would meet Arnold on disputed ground under flag of truce," Flexner wrote.

The meeting:
On Sept. 20, 1780, André, in uniform, boarded the British sloop
Vulture.
     One day later, André and Arnold met at the house of third man. During the meeting, Arnold handed over compromising information about West Point, including troop placement, sketches of the fort and artillery positions.
    Turn
focuses on the alleged relationship between André and Peggy Shippen, Arnold's wife. On the show, Arnold and Shippen are newlyweds and Shippen's passions still rest with André. While negotiating with Arnold, André even offers to give the turncoat all of the money he wants -- so long as Arnold gives up Shippen.
    Actually, Arnold and Shippen married in 1779. At this point, Shippen already had a child by Arnold. (See the Pennsylvania Center for the Book article,
Margaret Shippen.
)
André's capture: The Vulture moved down the river after being fired upon by American guns. Stranded, André had to travel by land using passes that gave his name as John Anderson and were given to him by Arnold. Now out of uniform, André was captured by militiamen.
    In Turn, the embittered Robert Rogers, formerly head of the Queen's Rangers and nurturing a grudge against André, set the trap. This is apparently fictitious.
Sept. 25, Washington's inspection:
On the way back from a meeting in Connecticut, Washington decided to inspect West Point. The general was with the Marquis de Lafayette, Alexander Hamilton and Gen. Henry Knox.
    "Washington found West Point in an advanced state of disrepair," according to James R. Gaines in the book
For Liberty and Glory, Washington, Lafayette and Their Revolutions
(W.W. Norton & Company; 2007). A wall of Fort Putnam, West Point's largest military fortification, "had collapsed, decay was spreading everywhere and there were no maintenance crews at work."
     Washington sent two messengers ahead to tell Arnold he was on his way. When the messengers arrived, Arnold excused himself to give orders. While doing so, he encountered a lieutenant and an enlisted man who had a dispatch from a subordinate officer that said,  "I have sent Lieutenant Allen with a  certain John Anderson taken going into New York. He had a passport signed in your name. He had a parcel of papers taken from under his stockings, which I think of a very dangerous tendency. The papers I have sent to George Washington."
     Arnold then went to his wife's room to tell her that all was lost and he was leaving. As he jumped onto his horse, he ran into four light-horsemen, who announced that Washington was coming, recounted Flexner in
The Traitor and The Spy
. "Arnold told the horsemen to stable their mounts in the barn," Flexner wrote. He then galloped to the river bank.
      Arnold hoisted his saddle and tossed it onto a waiting barge. A boat from West Point was approaching the landing. Arnold told the crew they should go up to the house and get refreshment and tell Washington that he would be back before dinner.
The revelation: After a two-hour inspection, Washington arrived at Arnold's house, only to find that Arnold was gone. "He [Washington] discovered why as he rested in his room before dinner, when Hamilton brought him some papers that had just been found in the boot of a British spy who was carrying a pass signed by Arnold," Gaines wrote. "Among the papers were details of artillery placement and troop strength at West Point, as well as detailed descriptions of the fort: 'Redoubt No. 3, a slight Wood Work 3 feet thick, very dry … easily set on fire – no cannon.'"
     Washington, who could only have been shaken after reading this description, sent Hamilton and one of Lafayette's aides off to arrest Arnold.
Washington reacts: Early in the afternoon, Lafayette was preparing for an early dinner when "Hamilton threw open the door in great agitation," Flexner wrote. "He begged the marquis to attend on His Excellency. Lafayette found Washington holding documents in trembling hands. 'Arnold,' he cried, 'has betrayed us! ... Whom can we trust now?' "
      Sources: 
        Related:
       Simcoe: Turn's British (Colonial) villain
       Turn: Peggy Shippen as femme fatale
       Fact, fiction and 'Turn,' the Colonial spy drama   
       'Turn' serves up revolutionary history
       Turn: John Andre, melancholy spymaster
    If you would like to comment, give us a shout, or like us on Facebook and tell us what you think.