Resources: States of the presidents
    Pennsylvania also benefits. It gets a second president who was born there. The first was James Buchanan, elected in 1856. Biden was born in Scranton, Pennsylvania, on Nov. 20, 1942. His family moved to Claymont, Delaware, in 1953, and Biden built his political career in Wilmington.
     As it stands now, 21 states are the birthplaces of the 45 men who became president. (Even though Biden is the 46th president, he is the 45th person to serve in that office. Grover Cleveland, who was elected to two nonconsecutive terms, counts as the 22nd president and the 24th president. )
    More than half of the presidents, 24 of them, have come from just four states: Virginia, Ohio, New York and Massachusetts. Below is a list of the states where presidents were born. If the state where someone resided when he became president is different from the birth state, the residence state is included in parentheses.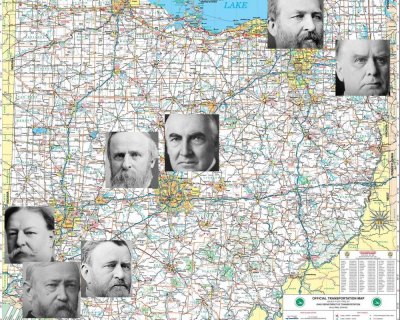 Presidents born in Ohio include: James Garfield and William McKinley
(Northeastern Ohio), Rutherford B. Hayes and Warren Harding
(Central Ohio) and William Taft, Benjamin Harrison and U.S. Grant
(Southwestern Ohio).
Virginia 
George Washington
Thomas Jefferson
James Madison
James Monroe
William Henry Harrison (Ohio)
John Tyler
Zachary Taylor (Louisiana)
Woodrow Wilson (New Jersey)

Ohio
Ulysses S. Grant (Illinois)
Rutherford B. Hayes
James A. Garfield
Benjamin Harrison (Indiana)
William McKinley
William Howard Taft
Warren G. Harding
New York
Martin Van Buren
Millard Fillmore
Theodore Roosevelt
Franklin D. Roosevelt
Donald Trump
Massachusetts
John Adams
John Quincy Adams
John F. Kennedy
George H.W. Bush (Texas)
North Carolina
James K. Polk (Tennessee)
Andrew Johnson (Tennessee)
Pennsylvania
James Buchanan
Joe Biden (Delaware)
Texas
Dwight D. Eisenhower (New York)
Lyndon B. Johnson
Vermont
Chester A. Arthur (New York)
Calvin Coolidge (Massachusetts)

Arkansas
Bill Clinton
California
Richard Nixon

Connecticut
George W. Bush (Texas)

Georgia
Jimmy Carter

Hawaii
Barack Obama (Illinois)
Illinois
Ronald Reagan (California)

Iowa
Herbert Hoover (California)
Kentucky
Abraham Lincoln (Illinois)

Missouri
Harry S. Truman
Nebraska
Gerald R. Ford (Michigan)

New Hampshire
Franklin Pierce
New Jersey
Grover Cleveland (New York)

South Carolina
Andrew Jackson (Tennessee). Jackson's state of birth is a matter of dispute. He was born along the border of North and South Carolina, but the exact spot isn't clear. North Carolina also has laid claim to him.
Official residence when sworn in
Below are the 18 states that have been official residences of presidents when they took office. If the birth state is different, it is included in parentheses. New York leads with eight, followed by Ohio with six, Virginia with five and Massachusetts with four.
New York
Martin Van Buren
Millard Fillmore
Chester A. Arthur (Vermont)
Grover Cleveland (New Jersey)
Theodore Roosevelt
Franklin D. Roosevelt
Dwight D. Eisenhower (Texas). Before his first term ended, Eisenhower moved his residence to Gettysburg, making Pennsylvania officially his home state at the time of his re-election.
Donald Trump

Ohio
William Henry Harrison (Virginia)
Rutherford B. Hayes
James A. Garfield
William McKinley
William Howard Taft
Warren G. Harding
Virginia
George Washington
Thomas Jefferson
James Madison
James Monroe
John Tyler

Massachusetts
John Adams
John Quincy Adams
Calvin Coolidge (Vermont)
John F. Kennedy
California
Herbert Hoover (Iowa)
Richard Nixon
Ronald Reagan (Illinois)
Illinois
Abraham Lincoln (Kentucky)
Ulysses S. Grant (Ohio)
Barack Obama (Hawaii)
Tennessee
Andrew Jackson (South Carolina)
James K. Polk (North Carolina)
Andrew Johnson (North Carolina)

Texas
Lyndon B. Johnson
George H.W. Bush (Massachusetts)
George W. Bush (Connecticut)
Arkansas
Bill Clinton
Delaware
Joe Biden (Pennsylvania)
Georgia
Jimmy Carter
Indiana
Benjamin Harrison (Ohio)

Louisiana
Zachary Taylor (Virginia)
Michigan
Gerald R. Ford (Nebraska)

Missouri
Harry S. Truman
New Hampshire
Franklin Pierce

New Jersey
Woodrow Wilson (Virginia)
Pennsylvania
James Buchanan