Rankings:
History and the first ladies: How do they rate?
     That's it. Seriously. Would you want to be married to an American president?
     In an election year, Americans look at not just the candidate -- but also the person's wife/husband and children. What does the other half do for a living? And will Bill Clinton become the first man in history to move into the East Wing office?
     There is no official job description -- and no salary. But Americans have come to expect that the first lady (or first gentleman) will embrace a project or cause with relentless energy and tireless optimism.
     In recent history, presidential spouses have led the fight for women's rights, tackled the stigma associated with mental illness and served as advocates for education and healthy eating habits. But how do their efforts measure up when compared with each other? 
     In 2014, the
Siena Research Institute,
along with C-SPAN and The White House Historical Association, collaborated on an effort to rate the women who have occupied the White House. As part of the survey, 242 historians, political scientists and published scholars ranked each of the presidential spouses on 10 characteristics.
Background
Value to country
Integrity
White House steward
Leadership
Own woman
Accomplishments
Courage
Public image
Value to president
     The institute has done the survey five times, in 1982, 1993, 2003, 2008 and 2014. Each time, Eleanor Roosevelt was the top-rated first lady.
     It's worth mentioning that in two of the five surveys (1982 and 1993), the lowest ranked first lady was Mary Lincoln, whose time in the White House was marred by the death of a son and ended by the assassination of her husband. (She lost other children before and after her White House tenure.)
     The other first lady at the bottom of the list is Jane Pierce, whose 11-year-old son was killed in a train accident immediately before his father was to take the oath of office. Both women are thought to have suffered depression -- and in an age before effective pharmaceutical treatment.
     The list does not include Martha Jefferson, Rachel Jackson, Hannah Van Buren or Ellen Arthur, all of whom died before their husbands took office. It also does not include Anna Harrison, whose husband, William Henry Harrison, died one month after his inauguration. James Buchanan, the 15th president, never married.
     Here is how the first ladies rank: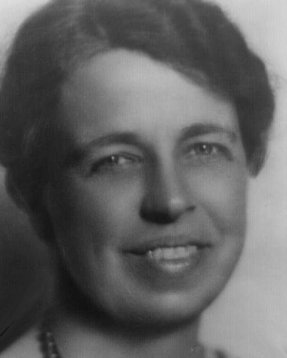 Eleanor Roosevelt, wife of Franklin Roosevelt.
Image: Library of Congress.
1. Eleanor Roosevelt (1884-1962): The wife of Franklin Delano Roosevelt, the 32nd president of the United States, ranks as the most effective first lady. The Roosevelts arrived at the White House as the country was deeply mired in the Depression. They remained in the White House throughout World War II. Historians put her in the top spot after considering her value to the country, accomplishments and courage.
    She was a forceful voice for civil rights. Famously, in 1939, the Daughters of the American Revolution would not allow opera singer Marian Anderson, an African-American, to perform at Constitution Hall in Washington. Eleanor Roosevelt resigned from the organization, and a concert was planned for the Lincoln Memorial. On April 9, 1939, 75,000 people attended the free recital, according to the National Archives and Records Administration. Her biography on the White House website notes that she "broke precedent" by holding press conferences. She also wrote a newspaper column and voiced her opinions in radio broadcasts. Unafraid of controversy, she supported efforts to allow refugees from Hitler's Germany into the country. During the war, she encouraged women to work in defense industries. (See more at: George Washington University -- the Eleanor Roosevelt Papers Project.)
2. Abigail Adams (1744-1818): The wife of the second president, John Adams, Abigail Adams is ranked second. She has a high score in one specific category -- value to the president. She was not shy about offering opinions and, from all accounts, was her husband's trusted confident. The National Women's History Museum recounts that after his election, John Adams wrote this to his wife: "I never wanted your Advice and assistance more in my life…The Times are critical and dangerous, and I must have you here to assist me." 
3. Jacqueline Kennedy (1929-1994): The wife of John Kennedy, the 35th president, Jacqueline Kennedy ranked highest among the first ladies for her work as White House steward. She is known for restoring the public rooms of the White House, according to her biography on the website for the John F. Kennedy Presidential Library. But she is especially remembered for promoting the arts. The website points out that after a dinner at the White House, Isaac Stern wrote this to the first lady: "It would be difficult to tell you how refreshing, how heartening it is to find such serious attention and respect for the arts in the White House. To many of us it is one of the most exciting developments on the present American cultural scene." She was in the car with her husband when he was assassinated. She married Aristotle Onassis in 1968. 
4. Dolley Madison (1768-1849):
  She served as hostess at the White House for two administrations, first for
Thomas Jefferson,
the third president and a widower, and then for her husband, James Madison, the fourth president. The survey gave her high marks as White House steward, but she was also a capable partner for her husband -- throwing lavish parties known as "squeezes" because of the crowds, recounts the website for the
Madison estate, Montpelier
. She was popular, loved and influential. Henry Clay, speaker of the House and a Kentuckian, once remarked, "Everybody loves Mrs. Madison." She replied, "Mrs. Madison loves everybody."
    While known for her charm, she also saw to it that a portrait of George Washington was removed from the White House as the British were set to invade Washington in 1814.
5. Michelle Obama (1964- ): The wife of Barack Obama, 44th president, Michelle Obama is a graduate of Princeton University and Harvard Law School. When her husband took the oath of office, she plunged into several initiatives -- most prominently, "Let's Move," a program to address childhood obesity. She gets high marks under the category "own woman" and for being a value to the president. (See her biography on the White House website.)
6. Hillary Clinton (1947- ): The wife of Bill Clinton, 42nd president, Hillary Clinton was, from the start, a partner. During her husband's years in the White House, she chaired the Task Force on National Health Care Reform, according to the White House website. Although the Clintons' health care plan failed to get through Congress, she successfully fought for children's health insurance initiatives. While her husband was still in office, she weathered several political storms, including revelations about his infidelity. Later, she became a U.S. senator for New York and secretary of state under Barack Obama. She is currently a presidential candidate.
7. Lady Bird Johnson (1912-2007): Her name was actually Claudia Alta Taylor Johnson. Lady Bird was a childhood nickname given to her by a nursemaid, recounts her biography on the LBJ Presidential Library website. In a sense, her work helped shape the informal job description for the first lady. A noted environmentalist, she was best known for prompting projects aimed at beautifying the country with flowers. During her years in the White House, she was also honorary chairman of the National Head Start program, an early-education initiative. 
8. Betty Ford (1918-2011): Respected by both Republicans and Democrats, Betty Ford was the wife of the 38th president, Gerald R. Ford. Having taken office in 1974 after President Richard Nixon's resignation, the Fords couldn't have moved into the White House at a more contentious period. Betty Ford quickly became known for her candor, fielding questions about women's rights and even talking openly about her treatment for breast cancer, recounts her biography on the Gerald R. Ford Presidential Library and Museum website.
9. Martha Washington (1731-1802): The wife of George Washington, the first president, Martha managed the president's household in New York (the capital city when Washington was sworn in) and continued to supervise his Mount Vernon estate, according to her biography on the website for George Washington's Mount Vernon in Virginia. She held weekly receptions for anyone who wanted to come. In Washington's will, his slaves would be freed upon Martha's death. She freed them a year after George died. She also received slaves as part of the estate of her first husband, but by Virginia law most of those slaves could not be freed because they belonged to his heirs. George had doubts about the morality of slavery, but Martha did not, according to the Mount Vernon website.
10. Rosalynn Carter (1927- ): The wife of Jimmy Carter, the 39th president, she was known during her husband's presidency for championing treatment for the mentally ill. She served as honorary chairperson of the President's Commission on Mental Health in 1977-78. In the years after Carter's presidency, she continued to be an advocate for the mentally ill and worked on various human rights issues. (See her biography on the Jimmy Carter Presidential Library and Museum website.)
11. Barbara Bush (1925- ): The outspoken former first lady, wife of George H.W. Bush, the 41st president, encouraged volunteerism. During her White House years, she emphasized reading to children and has been a longtime proponent of literacy programs. Her oldest son, George W. Bush, served as the 43rd president. Another son, Jeb, was a Republican candidate for the presidency in 2016. She is also a distant cousin of Franklin Pierce, the 14th president. (See her biography on the George Bush Presidential Library and Museum website.)

12. Laura Bush (1946-  ): An elementary-school librarian, she promoted literacy and the importance of reading to children. But Laura Bush is perhaps most remembered as the first lady who weathered the storm during and after the Sept. 11, 2001, attacks. The website for the George W. Bush Presidential Library notes that she spoke out for women and children in Afghanistan -- many of whom were mistreated at the hands of the Taliban.  
13. Edith Roosevelt (1861-1948): She had been a childhood friend of her husband, Theodore Roosevelt, the 26th president. As first lady, she remodeled the White House and smartly worked with an architect to separate the living quarters from the office space, according to the Theodore Roosevelt Center website at Dickinson State University. She was the first to hire a social secretary.
14. Edith Wilson (1872-1961): More than 50 years after her death, this first lady remains a controversial figure. The White House website acknowledges that she was rumored to be the "first woman to run the government." As the second wife of the widowed Woodrow Wilson, 28th president, Edith Wilson played a central role when her husband fell ill. While she did not specifically run the executive branch, she called the shots when selecting which issues her husband would address, according to the White House website. Everything else was handled by department heads.
15. Nancy Reagan (1921-2016 ): A onetime movie star and wife of Ronald Reagan, the 40th president, she is a natural in front of cameras. She also worked to refurbish the White House, according to her biography on the The Ronald Reagan Presidential Foundation and Library website. But while in the White House, she was most well-known for her Just Say No campaign, an effort aimed at helping young people turn away from drugs. 
16. Bess Truman (1885-1982): Unlike Eleanor Roosevelt, Bess Truman did not hold news conferences. As wife of Harry S. Truman, the 33rd president, she did, however, answer mail and attend numerous functions as first lady, according to her biography on the website for the Harry S. Truman Presidential Library and Museum. In the days after World War II, she re-instituted the White House social season and directed formal state receptions.
17. Lou Hoover (1874-1944): The wife of Herbert Hoover, the 31st president, she gave speeches, some of which were feminist, according to Encyclopedia Britannica's website. She also courted controversy in 1929 by inviting Jessie De Priest, wife of African-American congressman Oscar De Priest, to a White House tea party. 
18. Louisa Adams (1775-1852): The wife of the sixth president, John Quincy Adams, she was a Londoner by birth and the only first lady who was born outside the United States. She hosted social gatherings as expected, but otherwise preferred to spend evenings alone, according to the White House Historical Association. The association notes that she suffered from depression.
19. Ellen Wilson (1860-1914): The first wife of Woodrow Wilson, she had Bright's disease, a kidney disease, and died one year after her husband took office. During her short time in the White House, however, she sought to improve slums in the nation's capital, according to the White House Historical Association's website.
20. Lucy Hayes (1831-1889):
The wife of Rutherford B. Hayes, 19th president, she was a graduate of Wesleyan Women's College in Cincinnati and the first president's wife to hold a college degree, according to the
Rutherford B. Hayes Presidential Center.
The center also identifies her as the first president's wife to be
called the first lady
. She was noted for compassion -- visiting the National Deaf Mute College and sponsoring a scholarship for an African-American student at the Hampton Institute.
21. Grace Coolidge (1879-1957): Her husband, Calvin Coolidge, the 30th president of the United States, was known for a taciturn nature. His wife, however, is described in biographies as vivacious and a good hostess, notes The Complete Book of Presidents, by William A. DeGregorio and Sandra Lee Stuart, (Barricade Books; 2013). The book notes that a social highlight of her time in the White House was a party for Charles Lindbergh after the aviator's 1927 transatlantic flight.

22. Julia Grant (1826-1902): Civil War Gen. Ulysses S. Grant, 18th president, took office in 1869, and with the war over, his wife entertained lavishly, according to several accounts. Their daughter, Ellen Grant, married in the White House. She described her time there as "the happiest period" of her life, according to the biography on the White House website. The National Park Service website describes her as active in presidential matters, attending Senate hearings and meeting with officials.
23. Sarah Polk (1803-1891): She and her husband, James Polk, the 11th president, had a work partnership. During his presidency, Polk would occasionally discuss policy with her, according to The Complete Book of Presidents. She was considered intelligent and charming, but her religious convictions kept her from dancing at her husband's inauguration.
24. Mamie Eisenhower (1896-1979): Wife of the 34th president, Dwight D. Eisenhower, her name was actually "Marie." She was known as a gracious hostess. While pointedly nonpolitical, she made her mark through a variety of actions, explains The Miller Center at the University of Virginia. She campaigned for a woman who was running for Congress on the Republican ticket. She also was an honorary member of the National Council of Negro Women. She revived the White House Easter Egg Roll, which had been suspended since the beginning of World War II, and saw to it that African-American children were invited. 
25. Helen Taft (1861-1943): It was the wife of William Howard Taft, the 27th president, who requested that Japanese cherry trees be planted around the Tidal Basin near the Jefferson Memorial, according to the White House website. Despite suffering a stroke during the first year of her husband's term, she recovered and hosted stunning garden parties at the White House.

26. Frances Cleveland (1864-1947): She married Grover Cleveland, the 22nd and 24th president, after he took office. She was 21 years old. He was 49 and had been her father's law partner. (A biography on the Encyclopedia Britannica website recounts that when Frances was born, Cleveland bought her parents a baby carriage.) They married in the White House. She was obliged to set the record straight with a public letter when rumors circulated that Cleveland had physically abused her. While other presidential couples have had trouble adapting to life in the White House, the Clevelands simply moved out. They rented a house outside the city and returned to attend functions, the Britannica website said. Their daughter, born in 1893, was the first child born to a sitting president.  
27. Julia Tyler (1820-1889):  The second wife of John Tyler, the 10th president, was a beautiful young woman from New York. A widower already three years into his presidency, he married her in 1844. He was 54. She was 24. She was first lady for less than a year. (Her husband, who took office with the death of President William Henry Harrison, did not seek re-election.) But in that short time, the young woman decided to make a mark, chiefly, with parties. At formal events, she "dressed lavishly in a long-trained gown and a peacock-feathered headdress, sat on a platform with her maids of honor to receive formally announced guests," recounts a biography on the website of the Miller Center at the University of Virginia. If extravagant, she was also smart, dining with members of the government and using her social skills to forward her husband's political agenda.

28. Lucretia Garfield (1832-1918): Her husband, James Garfield, the 20th president, was not long in office. He was inaugurated March 4, 1881, shot by an assassin on July 2, 1881, and died Sept. 19. During her time as first lady, she researched White House furnishings and had planned to restore the home, according to The Complete Book of Presidents. Sadly, she contracted malaria and went to a resort in New Jersey to recover. Her husband planned to visit her and was at a railroad depot in Washington, D.C., when he was shot. 
29. Caroline Harrison (1832-1892): Like other first ladies, the wife of Benjamin Harrison, 23rd president, found the White House in need of an overhaul. According to her diary: "The rats have nearly taken the building so it has become necessary to get a man with ferrets. They have become so numerous and bold they get up on the table in the Upper Hall and one got up on Mr. Halford's bed." (She was referring to the president's private secretary, according to the website for the Benjamin Harrison Presidential Site.) Congress eventually gave her money to clean the place. She also organized the White House china. She supported local orphanages and a medical fund for Johns Hopkins Medical School.

30. Elizabeth Monroe (1768-1830): The wife of the fifth president, James Monroe, was described as "regal looking," according to her biography on the White House website. She had traveled with her husband to Europe when he served as an ambassador to France and later Britain. While ill and not as active as other first ladies, she created a more formal atmosphere at the White House.

31. Mary Lincoln (1818-1882) The wife of the 16th president, Abraham Lincoln, is remembered as a tortured soul. As first lady, she was hotly criticized, either for entertaining too much (and spending too much) or entertaining too little, according to a biography on the White House website. The couple had already lost one son before Lincoln's election. During his presidency, they lost a second son. The assassination of her husband wasn't even the final blow. Six years later, Tad, her youngest son, died of illness at 18. Only one of the couple's four sons, Robert, survived to adulthood. 
32. Abigail Fillmore (1798-1853): A schoolteacher, her husband, Millard Fillmore, 13th president, was one of her students. At the time, she was 21 and he was 19, according to her biography on the White House website. As first lady, she found receptions difficult -- she had injured her ankle and had to stand next to husband. Her daughter stepped in and fulfilled the social duties, the website said. The Fillmores attended Franklin Pierce's inauguration on March 4, 1853. Abigail caught a chill, which turned into pneumonia. She died March 30.

33. Pat Nixon (1912-1993): The wife of the 37th president, Richard Nixon, her stay in the White House was among the most turbulent in history. She was a proponent of volunteerism, according to a biography on the website for the Miller Center at the University of Virginia. She also worked to make the White House more accessible with wheelchair ramps. But her husband's political problems overshadowed those efforts. In the wake of a political scandal, the president resigned rather than face impeachment. The salient memory is of a woman bravely standing by a husband in crisis.
34. Ida McKinley (1847-1907): The wife of the 25th president, William McKinley, is described on the White House website as a "petulant invalid." In fairness, she suffered from phlebitis and epileptic seizures. McKinley was never far from her. At dinners, he would watch to see if she was suffering a seizure and cover her face with a cloth. He was assassinated in 1901.

35. Margaret Taylor (1788-1852): The wife of Zachary Taylor, 12th president, refused to sit for a portrait. After the presidential election, the sitting president, James Polk, invited Zachary and Margaret Taylor to dinner, according to the Miller Center University of Virginia website. Margaret did not go and sent her daughter instead. Unsubstantiated rumors spread that she was imprisoned in the attic or that the family was embarrassed by her unpolished ways. The Miller Center points out that she was not truly a recluse and attended church services almost daily.

36. Florence Harding (1860-1924): Warren G. Harding, the 29th president, was said to be a successful newspaper publisher in Ohio, but his wife was involved in the business end of the Marion Star and helped the paper become a success, according to The Complete Book of Presidents. As first lady, she hosted garden parties at the White House and was interested in astrology. She went to a clairvoyant, who predicted that Harding would die before the end of his term. He had a heart attack on Aug. 2, 1923, two years after taking office. 
37. Letitia Tyler (1790-1842): The first wife of the 10th president, John Tyler, she suffered a stroke in 1839, two years before her husband became president. As first lady, she was not often seen, emerging from the living quarters only once, for the wedding of her daughter in 1842, according to The Complete Book of Presidents. She suffered a second stroke later that year and died. 

38. Eliza Johnson (1810-1876): She was in Tennessee and not present when her husband, Andrew Johnson, was sworn in as the 17th president following the assassination of Abraham Lincoln. Several months later, she traveled to Washington, but even then her health (tuberculosis) prompted Eliza to ask her daughters to fill in as first lady, according to a biography on the Miller Center at the University of Virginia. She privately remained an adviser to her husband during impeachment proceedings against him.   

39. Jane Pierce (1806-1863): The wife of President Franklin Pierce, the 14th president, is placed last among the first ladies. But in fairness, she was suffering from depression. The couple's 11-year-old son, Benjamin, died in a train accident immediately before his father was to take office. While in the White House, she often confined herself to the living quarters, writing letters to her dead son and attempting to contact him through seances, according to a biography on the website of the Miller Center at the University of Virginia. An aunt fulfilled her social duties, along with Varina Davis, wife of Secretary of War Jefferson Davis.
  If you would like to comment give us a shout or like us on Facebook and tell us what you think.