Who was Gen. John Pershing?
     But John Joseph Pershing was also significant because he is credited with reorganizing the Army and understanding early on America's growing role in the world. His statue can be found on Pennsylvania Avenue in Washington, and there  plans for an expanded World War I memorial on the land around it.
     Pershing was born in Laclede, Missouri, Sept. 13, 1860. In 1873, his father lost money in a financial crash, and Pershing had to work while pursuing his schooling, according to
World War I, The Definitive Visual History,
Richard Overy, editorial consultant (DK books; 2014).
     He took teaching jobs and enrolled at the First District Normal School, now Truman State University, in Kirksville, Missouri. In 1880 Pershing earned a two-year bachelor's degree from that school and applied for admission to the U.S. Military Academy. After graduating from West Point in 1886, the 26-year-old Pershing received his commission and began a long military career. He died July 15, 1948.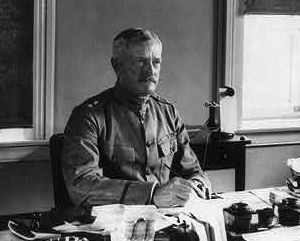 Gen. John J. Pershing. Image: Library of Congress.
Rise to prominence:  Well before World War I, Pershing saw plenty of action. Indeed, after getting his commission, he served as a second lieutenant with the U.S. 6th Cavalry, and while stationed in New Mexico and Arizona, "he fought Apaches led by Geronimo," according to the State Historical Society of Missouri website. After the Indian campaign, he took an assignment at University of Nebraska as military instructor and also studied there, receiving a law degree.
"Black Jack" Pershing: His nickname, "Black Jack," stems from Pershing's 1896 assignment with the 10th Cavalry, a group of African-American soldiers. He then taught at West Point but later was assigned to 10th Cavalry again -- this time leading the men to Cuba and the Battle of San Juan Hill. [See an article on Pershing at San Juan Hill on the National Museum of the United States Army website.]
Good connections: Along with being hardworking and competent, Pershing developed an influential network. He didn't marry until 1905. He would have been 45 years old and his wife, Helen Frances Warren, was 20 years his junior and the daughter of Sen. Francis E. Warren of Wyoming. Warren chaired the Military Affairs Committee, notes World War I, the Definitive Visual History. Pershing had another well-placed friend, President Theodore Roosevelt, who also fought at the Battle of San Juan Hill.
    In 1906, Pershing was promoted from captain to brigadier general, a four-grade jump in rank and a move that bypassed 800 senior officers, according to the State Historical Society of Missouri. Although the promotion was backed by Roosevelt, it was controversial, especially since Pershing had recently married Warren's daughter.  But the website points out that Roosevelt had suggested the promotion before Pershing met his future wife.

Tragedy strikes: In 1915, after 10 years of marriage, Pershing's wife, along with their three young daughters, died in a fire at their home on the Presidio military base in San Francisco. A servant rescued Pershing's son, Warren, according to the National Park Service.

A defeat:  In 1916, followers of Pancho Villa, a Mexican revolutionary, rode into Columbus, New Mexico, murdered 18 Americans and burned the town. [See the story on the Library of Congress website.]  President Woodrow Wilson sent Pershing and the army to retaliate, but the troops were "not allowed to enter any town in Mexico without permission of the mayor; they could not use major roads; and they had to cooperate with government forces," the library's website recounts. Pershing couldn't win.

Pershing during World War I:
When the war began, Pershing was made commander in chief of the American Expeditionary Force. He caused tension among the Allies  by refusing to allow his European counterparts to call the shots. While some of his men entered the fight as part of the Allied force, he "continued to focus on the ultimate goal – of creating an army that would enter battle under his command," writes Overy in
World War I, The Definitive Visual History.
    By 1918, the U.S. Army was "an independent force on the Western Front," according to the book. He participated in several key battles.
    As told in The New York Times obituary:
"By dogged slogging through the indescribably difficult region of heavily forested hills which lay in front of the main line, desperately defended by the Germans, the American First Army broke through and blocked the German communications. At the same time the French and British were driving the Germans back and with his line crumbling everywhere and his armies in danger of being trapped, the enemy was forced to sue for peace."
A reboot for the U.S. Army: The National Park Service website for the Presidio credits Pershing with reorganizing the Army: "Among his achievements, Pershing updated military training techniques, emphasized physical fitness and started professional schools for officers." As such, he played a role in the emergence of the U.S. as a key player on the world stage.

Honored:  
After the war, Pershing was promoted again -- general of the armies, the highest American military rank. No one had ever been given the rank before.  (In 1976, President Gerald R. Ford signed a resolution posthumously promoting George Washington to the rank. See
The New York Times story.
)   
    Despite Pershing's popularity at the end of World War I, his political career did not catch fire. As a professional soldier, he lacked a permanent residence, but had lived in Nebraska from 1891 to 1895, according to the Nebraska State Historical Society website. Friends and advisers attempted to push a
Pershing for President
campaign. But during primaries in April 1920, Pershing finished third.
    Pershing retired in 1924 and wrote a memoir,
My Experiences in the World War
, (1931), which won the Pulitzer Prize. 
     Sources:
     Related:
     World War I, Day One: July 28, 1914
     100 years ago: 5 reasons World War I started

If you would like to comment give us a shout or like us on Facebook and tell us what you think.